Testimonials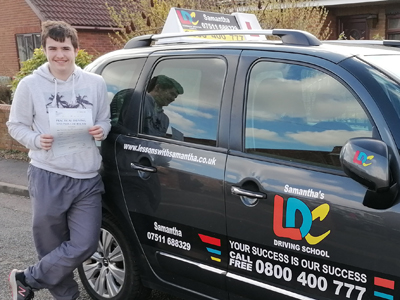 Johnathon Dobson-Shipley
2nd time pass
Absolutely amazing, always happy and smiling when every lesson was on. Every lesson was as to be expected from such an amazing instructor. And the car was exactly what I expected.
George Smithson
1 minor
I have thoroughly enjoyed my time learning to drive with Samantha, she is incredibly patient and very understanding which made the process a pleasurable experience. She taught me to drive at a very high standard and I now feel confident in my own ability to drive to a high standard because of this. I would absolutely recommend anyone considering taking lessons with her!
Luke Young
3 minors
My Mum helped me pass my practical driving test. She treated me like any other student she had. She is calm and helpful, corrected me if I did anything wrong. I am very grateful to have driving lessons off my own Mum.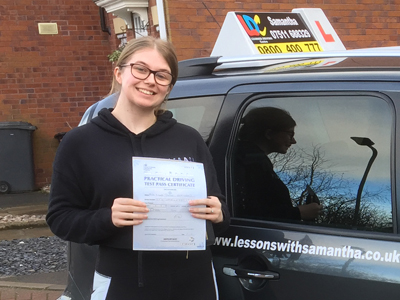 Laura Atkinson
3rd time pass (1st with me)
Could not be happier for the lessons Sam has given me. Really supportive and calming throughout the whole process. Actually helps you understand what you are doing/when you get things wrong, how to go about the situation in a better way. Structures the lessons around what you particularly want to achieve which was good. She didn't mind going over and over things until you were spot on. Would recommend to anyone!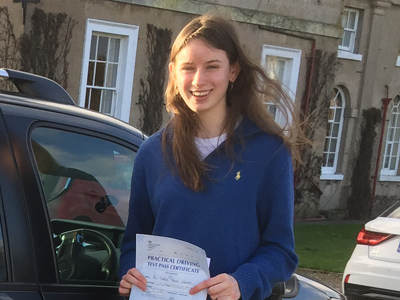 Georgina Comberford
2nd time pass
Really good instructor, very good teacher.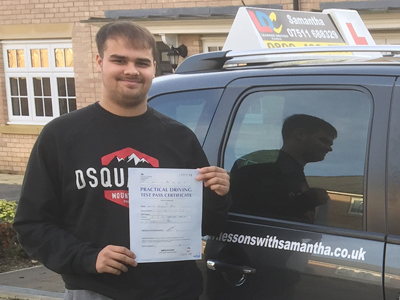 Connor Dawson
2 driving faults
Samantha is a great instructor, she explains how to do things well. She uses the textbooks and draws diagrams to help. The LDC videos are very helpful as they explain everything very well.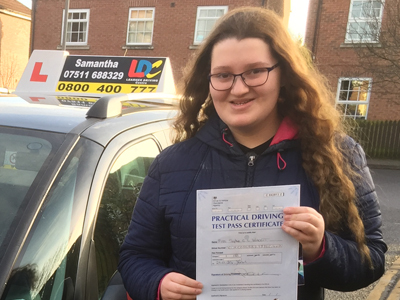 Sophie Wincott
3rd time pass
A good instructor. Built my confidence. Made me feel comfortable and gave good corrections. The LDC system was useful because I could read about each skill before I did it and I knew what to practice. It was useful to have questions in the back of the book.
Leanne Burgess
1st time pass
My instructor was amazing from start to finish. She believed in me even when I doubted myself and questioned my ability as a driver. She never let me quit and I'm so glad she made me persevere because I passed first time. She was like an instructor and a friend. The LDC system worked to an extent but I found the YouTube videos much more helpful than the workbook as I am more a visual learner.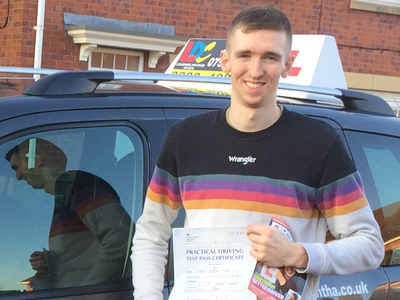 Jordon Todd
3rd time pass (1st with me)
Very kind and helpful instructor, enjoyable lessons and helped me polish up on my driving. Friendly person who was always concentrating on picking me up on faults, which is exactly what I wanted after failing 2 times already! Overall a joy to be with and very happy.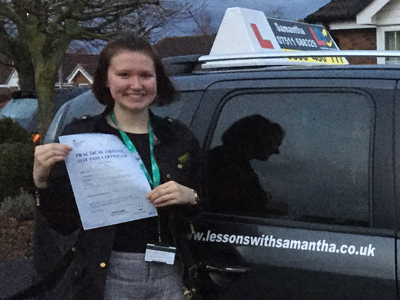 Lauren Watkinson
3rd time pass
Theory prep was very helpful - did one every day and passed first time. Sam was an excellent - very considerate and clear with instructions/feedback. I'd recommend.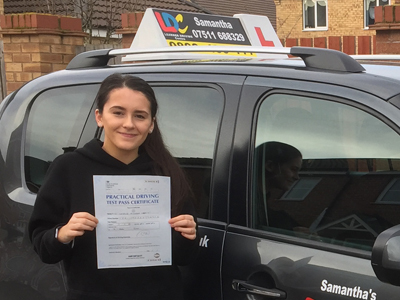 Shirelle Verity
4th time pass (3rd with me)
Sam has been an amazing driving instructor, very patient and explained everything I haven't been sure on properly. Sam has remained calm and put me at ease throughout all my lessons. I would highly recommend her to anyone and I'd like to say a big thank you !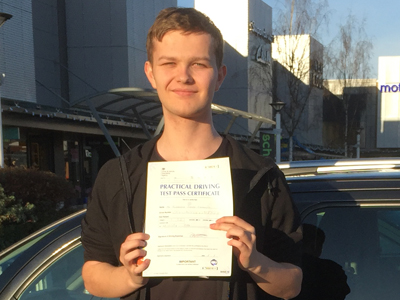 Alex Crossley
1st time pas
Sam was the best instructor and very helpful and calming. When I got stressed Sam de-stressed me. I was really happy to have Sam as my instructor. I would defiantly recommend her to other people.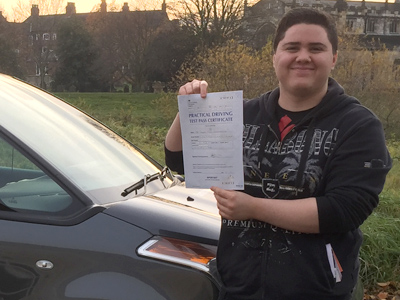 Jacque Greyvenstein
1st time pass
Sam is a very calm instructor who has filled me with confidence through the experience and I have been so grateful. Sam always pushed me to do better and would encourage me to go the extra mile. Sam has been one of the main driving forces for me to get my licence. I would recommend Sam to any one and everyone that wants to learn to drive.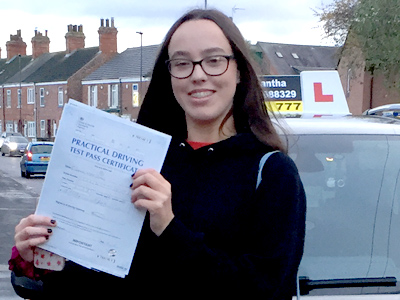 Eleanor Jones
1st time pass
Had an excellent time learning to drive with LDC. Thoroughly enjoyed my experience and I am pleased to have passed first. I would recommend LDC to anyone learning to drive as I feel confident on the roads.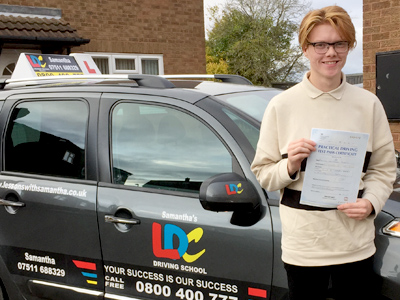 Brandon Husband
2nd time pass with zero faults
Sam was the most amazing instructor you could possibly have. Being with Sam from the start of her career, I've seen the great progress in her teaching. Sam is calm, understandable and let's you learn at your own pace. Every lesson was great and truly good memories. Sam believed in me when I had little confidence and all the way until I passed. I will miss lessons with Sam as every lesson was fun. When I went through the book with Sam she made everything clear and used help sheets when I was confused. I honestly recommend Sam to any other learner. I will never forget what she had taught me. Thank you for everything, all the best for the future.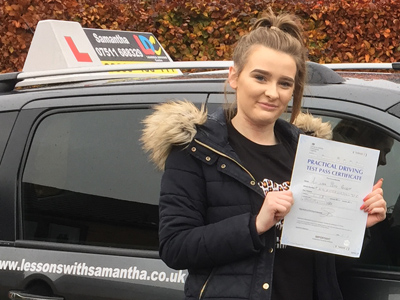 Neve Patchett
1st time pass
Can't even thank Samantha enough for how much she has helped me with my driving and my confidence. From day one she has always filled me with confidence and made me feel like I can do anything. Samantha always gives praise where it is due and always makes you aware when you are doing things correctly. I was encouraged to do new things but never made to do things I didn't want to. I would recommend Samantha to anyone. Thank you so much.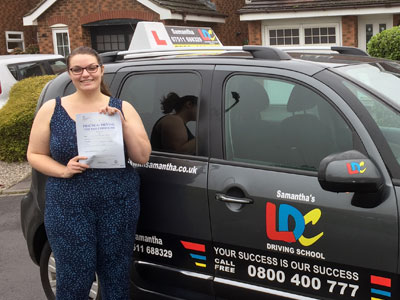 Jennifer Logan
2nd time pass
Sam was an absolutely fantastic instructor, she knew where I needed extra help and knew how to boost my confidence when I felt as though I couldn't do it ! She is so friendly and it makes learning to drive so much more relaxing and easy ! I have really enjoyed learning to drive with Sam. I was a very nervous driver and Sam has helped me so much ! Thank you so much ! The workbook is amazing, everything you need to know is in there and how to do it, it's fantastic for the theory test as well as the online LDC questions and reading material! I would 1000% recommend Sam and LDC to friends and family. Thank you so much again! X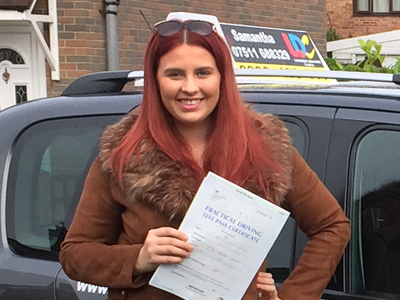 Lily Stevenson
2nd time pass
My driving instructor was amazing! After having a bad experience with my last driving instructor she was leaps and bounds better than what I had. She always made me feel safe and calm and I would fully recommend sam to anyone who wants to learn. She really cares and makes sure you work on your weakest points, so you go into test feeling confident. The workbook and videos were extremely useful and helped me correct all the mistakes. I can't fault the company in anyway and will recommend the company to anyone who is ever looking to drive, especially to Sam!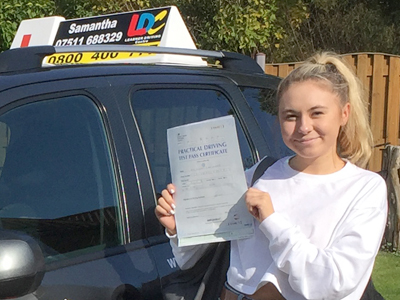 Eleanor Hughes
1st time pass
I found Samantha to be an amazing instructor, always welcoming and supportive. She had the most confidence in me. Thank you so much.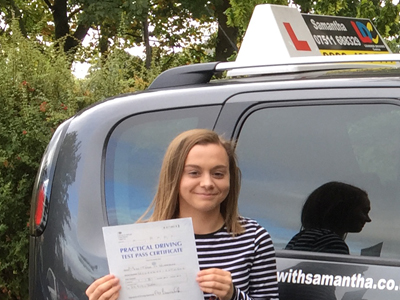 Tara Wooderson
2nd time pass
From my experience with driving with Samantha Young I have felt comfortable, relaxed and calm, Sam was amazing. She has built my confidence up so well. At first I was so nervous, but now I have much more confidence. I 100% recommend Sam to anyone learning to drive.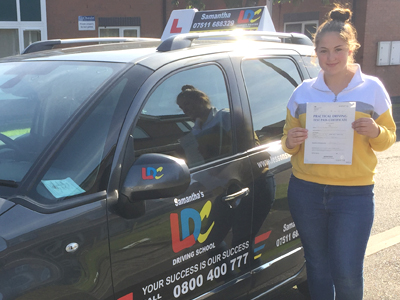 Megan Wall
1st time pass
Sam is great at going at your speed. She never rushes your progress and is great at giving the support that we need. Also Sam gives you all the information needed for test and gives you good time to practice. The workbook was a big help and clearly states what you need to know. The app for the theory test helped me understand what was expected.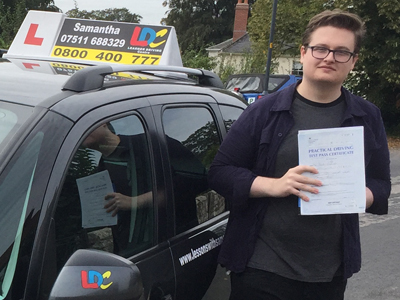 Lewis Powell
1st time pass
Sam was very patient and understood how to make me feel comfortable and supported, throughout all my lessons. I was able to decide how to spend lessons and focus on topics that I wanted to. This made me feel much better as I was able to focus and be supported on less comfortable areas of driving. Overall Sam is a great teacher and would not have passed first time without her.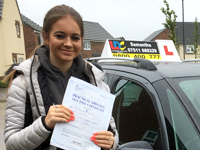 Katie Crawford
Passed 1st time
Samantha was very patient as I was learning. We looked through the LDC book before I learned something new and she pushed me in a good comfortable way to try things I was a bit scared to do. She kept taking me on test routes and places where things could be tricky.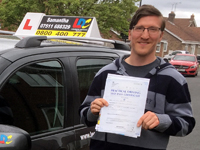 Paul Jones
2nd time pass
Friendly person who is very patient, easy to understand directions. I enjoyed my lessons with Samantha, helped me pass.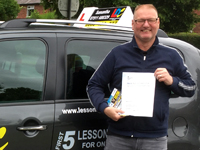 Robert Griffiths
1st time pass
I feel that Sam totally put me at ease. Her voice and personality is very calming and she made me feel relaxed. I would highly recommend her for younger and older students.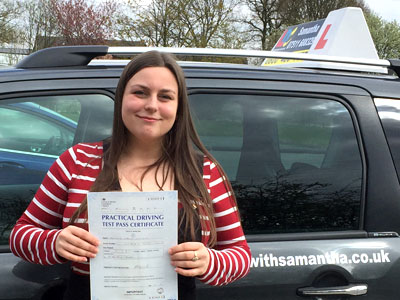 Katie Wilkinson
Passed 1st time
Samantha was FANTASTIC! She kept with me through literal sweat and tears. This course was the best idea I could have done, could not recommend them enough. The LDC book they gave you is the bible of passing you test. Lovely instructor, great course, thank you LDC.
Call today on 07511 688329 or Email me to find out more
If you have any questions or to book lessons today, feel free to contact me